Average Rating:
Steamy Level: Hot
Synopsis
Besieged by memories of a brutal abduction, Claire Nichols wakes in an unfamiliar bedroom, within a luxurious mansion. Her recollections have one common denominator, the man she just met, Anthony Rawlings.
Unbeknownst to Claire, for a very long time, she has been within Anthony's sights. Many of the pivotal events in her life occurred, due to his sinister manipulation. Every action has a consequence, and his actions result in their chance meeting.
More than a psychological thriller, Consequences is a vivid story of one woman's struggle to survive incomprehensible circumstances. Every aspect of her being suddenly depends upon the tall, wealthy, dark haired, dark eyed businessman. Anthony Rawlings is known to the world as prosperous, benevolent, and kind. Claire quickly learns that he can also be a menacing controlling captor.
With few options but concession, Claire attempts to earn her freedom, while enduring a hellish existence that truly appears perfect. Persevering tests and trials, she struggles to retain her pure Midwest values and beliefs. Encouraged by memories of a loving upbringing, she gains strength in the simplest of joys: solitude in nature and good in the face of evil.
His goal in sight, Anthony's calculated agenda encounters an unforeseen detour. He becomes captivated by Claire's beauty, resilience, and determination. The interaction of these two compelling characters instigates strong emotions: fear, anger, love, and lust. Claire and Anthony's tumultuous journey flows into uncharted waters of intrigue and passion.
SHIT!!!!!!
Fuck !!!!!!!!!
OMG!!!
Wow just wow I don't even know what to say where to start….. just wow.
But what I can say is that Aleatha Romig is an amazing writer and this book was phenomenal If it was possible to give it higher rating I would; it's almost insulting to put this book at the same level as previous ones when it was by far the best book I have read in a while. I experienced so many emotions when I read this book it was like a roller-coaster from laughing to crying to anger to frustration. I didn't even know it was possible to feel so many things at once. It was quite a lengthy book but well deserved and fit the story to a tee, I never wanted it to end. However, I must say that poor Larry(my kindle) did pay the price as when I was reading it I smashed him on the bed too many time, until finally i lobbed it at the wall in the school library... the school recommend me to get some counselling.... let just say that it was a very awkward conversation explaining why I had to spend £135 getting a new kindle and why she kept getting letters from the school about anger management.
And after £135 and 2 counselling session trying to tell the damn counselor I do not have anger problem.... do i regret it.
FUCK NO!!!!
What I liked:
Antony, Antony, Antony. This guy was the most vindictive, manipulative and cocky character I have every read. I know what you're thinking you hate him but you love to hate him. But NOO that is not the case: I absolutely hated him. As in every fiber of my being was pushed so hard because of his existence!!!!!! But never the less he was a brilliant character and he MADE the story …… I could write about a thousand words solely on him and it still wouldn't even grasp the lining of his character. And his stalker tendency ….. words cannot describe, think Christian Grey but 10 TIMES WORSE!!!! I think this guy should be checked in to psychiatric ward ASAP.
Okay I have to say I am always one to route for love no matter what, how many people they hurt, or how wrong their relationship is. Be it them be relatives, them being in another relationship, or even someone falling in love with their captive. Love is love, who am I to speak against it. But that certainly wasn't the case here, this is what I see as straight up
STOCKHOLM SYDROME,
like what the Fuck, how the hell can someone love someone like Tony after what he did to them. It was so unbelievable I can't tell you how many time I got looked at like I was crazy because I was frantically screeching at my kindle.
AAHHHHHHHHHH!!!!!
I'm still so angry right now.
The Ending ………that ending my mouth is still hanging open.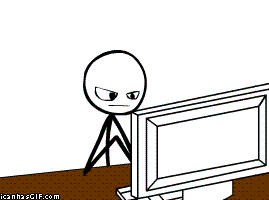 You could have not expected that ending within a mile, it is soo explosive. What I've found recently is that books are getting to
PREDICATABLE
. Same all same all and you can always tell how it's going to end: all happy dappy and all the characters getting happily married yad yad yad….. Consequences is anything but predictable, you never no what is going to happen next. Every moment of this book keeps you clinging on for dear life scared to read on. And just when you think it's at its worst
BAAAAMMMMM!!
It surprises you once again and you're standing there like
WHHAAAAA
. The Ending just made me hate Anthony more, I didn't even think it was humanely possible for me to hate him anymore but then talented Aleatha Romig comes around again and makes the impossible possible
What I didn't like:
Clarie, what the hell is wrong with you. I just wanted to jump through the book and bitch slap her like 5 thousand times!! How can you be so weak? Where was this strong sophisticated woman I first saw. She literally vanished into thin air. I know and understand that sometimes when you are held captive you're too scared to run away. But come on she was always ranting on about how much she hated Antony and how much she wanted to leave. But she NEVER did. And it wasn't like she didn't have plenty of opportunities to do so: she was allowed out, had a personal driver, was taken to party event and was even taken on a jet to another state BY HER SELF. For crying out loud! If that wasn't a massive opportunity I don't know what was. However, I don't care how many emotions this book dragged me through, I would read it a million times over. I recommend this book to anyone, it will be the best reading experience you will ever encounter.
My dream Cast
This is always my favorite bit of the review.....
Antony
Claire
To Purchase Consequences for kindle --> CLICK HERE
To Purchase Truth (Book 2) for kindle --> CLICK HERE