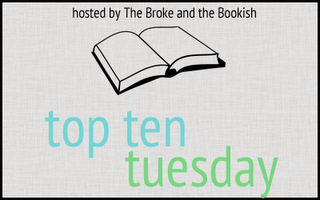 Top Ten Tuesdays is a meme hosted by
T
he Broke and Bookish
that features a new topic each week where we have to put down our top ten of it.
TASK:
Top Ten Words/Topics That Instantly Make Me Buy/Pick Up A Book
(Im changing it a bit but I'm going to do 6 topic that draw into a book and 4 topics that turn me off a book)
1. Forbidden Love
This one is probably one that a lot of people are picking but no one can ever resit a good forbidden love romance their addictive.
2.Taboo Subject
I love these books they are soo good like your just thinking woow when you read it . I can never put a book down when i see its a taboo subject. I know its sick but i love reading books when family member fall in love i love reading the raw feelings they are having these books always give me a good cry
Gosh I know what you guys are thinking ..... your thinking that this girl is a freak and you want to unsubscribe from my blog. But guys please dont because if you actually read one of these books you will be as hooked as me. (and if you still want to unsubscribe stay for Erin she is not weird like me ) And when I say dark I dont mean Fifty shade dark i mean dark dark . Like killing kate dark. The book that got me hooked was captive in the dark I love books with kidnappers.
4. Greeks Myths and Nymphs
Everyone knows that i don't like paranormal books but these topic are very interesting. I love Greek myths from when I first learnt about Greeks in primary school(for our american subscribers primary school is elementary school) i was hooked. When i say nymphs i mean only nymphs i don't like angels I tried it and it did not really go well with me : fallen and hush, hush were really boring for me.
5. SEXXXXXXXXXYYYYYYYY Books
Yes my guilt pleasure I love a bit of smut in my books not like full one all about sex books like beautiful bastard. But just books that don't leave much to the imagination if you know what i mean. I remember the days before new adult I use to get so mad at YA especially Sarah dessin books aaaah she always ended the chapter when it was just getting good leaving i all to imagination I DON'T HAVE A GOOD IMAGINATION!!!
Omg i almost forget my genre love NA not meaning to be captain obvious but I LOVE na , which will explain why my blog is dedicated to it. loll
7. Kids
Okay im not a mean person okay so just allow me to clarify. Imagine a sexy movie scene a couple is going at it in the back of a cinema yes are we imagining ..... input a child into the equation i assure you the movie has changed into barbie or smurfs. Kids an sex don't mix .... i don't like kids getting in the way of my romance. But i have read some books that are of exceptions.
8. Vampire, Demons, Angels, Half Vampire, Fairies , wolves(all of that paranormal stuff)
I have tried, tried , and tried to get into these books but i will never ever under stand them they are so foreign to me. And its weird because I love love paranormal tv shows all that supernatural, vampire diaries etc are on series links on my tv but i don't like reading it. But there some books that i just love regardless like the vampire academy and bloodlines
9. Virgins and Bad boys
A few weeks ago if you would have pointed me in the direction of one of these books i would have kissed your feet i adored these book. But now aaaahah there just every where i cant stand them any more because i always know what is going to happen aaaah. But after like a week or so you will see that i will be hooked on them again but can you blame me who can resits delicious boys like Travis !!!
10. Covers
I know we are not suppose to judge a book by its cover but i cant help it if im waking threw a book store if i don't like your book cover i will not pick up your book plain as.